Nimble Pop-up Cover
The pop-up cover opens with a gentle nudge, made possible by the precise rotating shaft design, and a first-ever attachable magnetic design fuses earbuds and watch, to double the fun and convenience.
When using the device, make sure that the earbud compartments do not get wet. When washing your hands, prevent water from touching the watch and earbuds. Do not use them when participating in activities involving water, such as swimming, diving, taking a shower, or washing a car.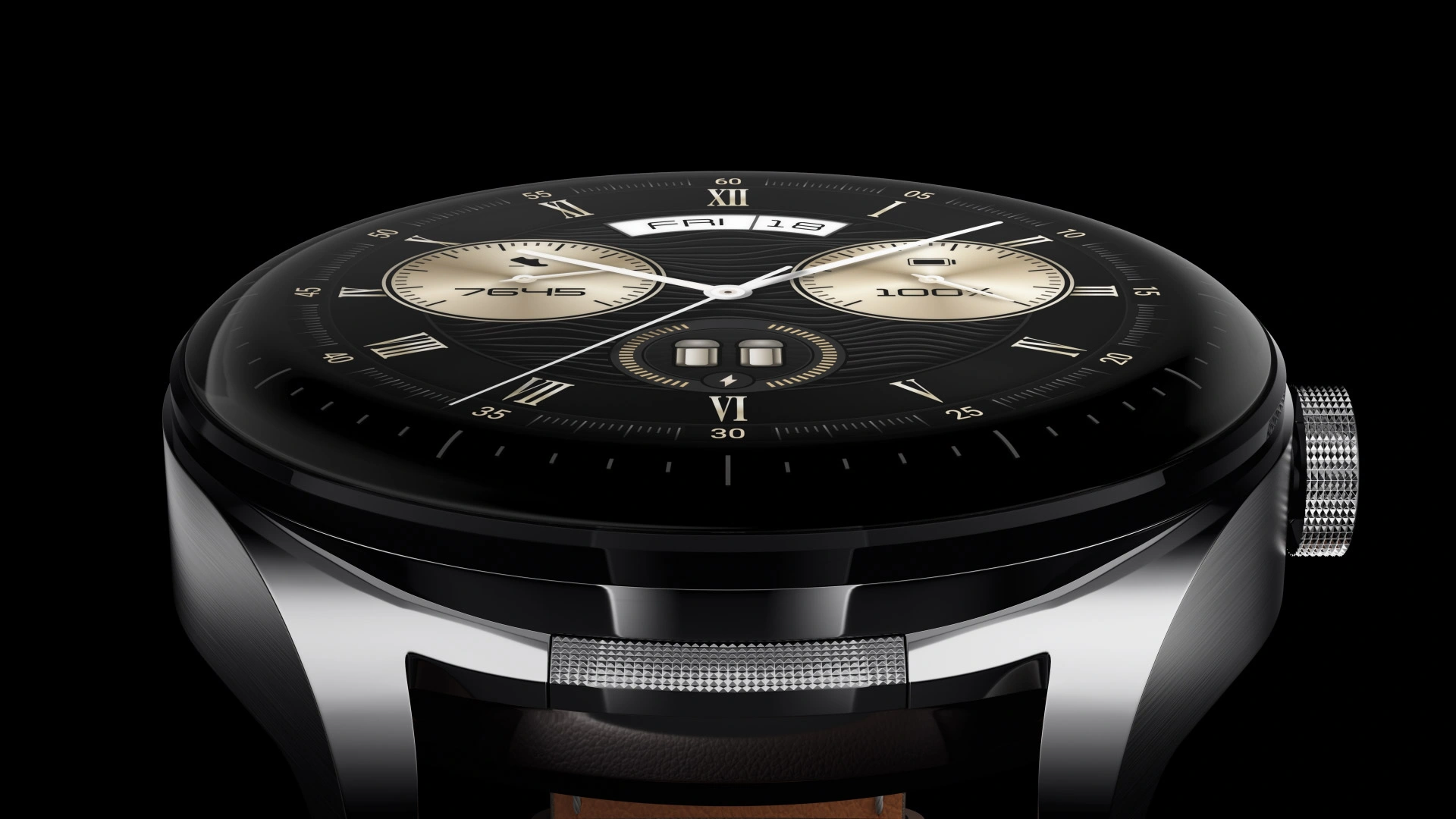 Effortless Magnetic Attachment
A cutting-edge magnetic array allows you to attach and remove the earbuds from the watch cover, from any angle, without having to exert any force.
Crafted with a Commitment to Quality
The 3D curved glass exterior is seamlessly imbedded into the 1300°C refined steel body, with 710 Clous de Paris ornaments on the button and watch crown, to create a sophisticated look and feel.
The full-grain leather strap provides skin-soothing comfort2 in two colours, and dazzling watch faces dial up the sense of style.
Mini But Mighty
These buds are a breeze to wear, airy-light at 4 g, and compatible with either ear, thanks to adaptive identification technology. Switch left and right — it's all OK — and enjoy world-class comfort at all times!
Innovative wide-area auricle touch controls allow you to tap the earbuds, auricles, or area in front of the ears twice to answer and reject calls or play and pause tracks, and tap three times to activate and disable noise cancellation. You can even create custom tap controls of your very own!
The full-range planar diaphragm unit features four magnets and a planar coil, to generate rich sounds that are chock-full of texture. Three real-time listening optimizations account for the shape of your ear canal, the fit of the earbuds, and volume level, to provide a pristine listening experience.
Active noise cancellation keeps unwanted sounds at bay, so that you can listen in peace wherever you go. Awareness mode keeps you plugged in to surroundings while listening, so that you can stay attentive to what's going on.
AI noise cancellation calling keeps calls as clear as can be, enhancing your voice while minimizing background noise, thanks to a bone conduction sensor, dual mic setup, DNN call noise cancellation algorithm, and pressure relief design that conforms to fluid mechanics.
Health and Fitness Expertise
HUAWEI WATCH Buds tracks a wealth of different health indicators and gives you data-driven fitness at your fingertips.
Sleep Tight Every Night
HUAWEI TruSleep™ 3.0 provides precision sleep tracking and analysis.
Smart Heart Rate Monitoring
The 24/7 heart rate alerts you in real-time if your pulse is ever abnormal.
SpO2 Measurements
A smart SpO2 tracker automatically measures your blood oxygen level.
Stress Relief
Enjoy peace of mind around the clock, with stress-busting services that help you unwind
Smart Life Assistant
It syncs phone calls and messages, and supports quick replies.
You can even send music from your phone to the watch, to listen offline during workouts
Long-Lasting Battery
360° charging rings can be used to charge the earbuds from any angle. The HUAWEI WATCH Wireless Super Charger is made of a new thermally conductive oxide ceramic material, and its heat dissipation capability is improved by 100%.