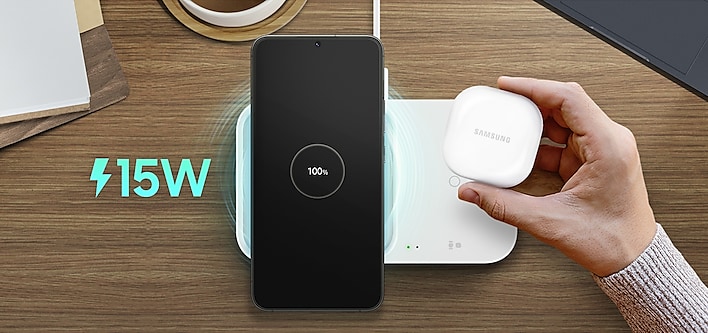 Charge fast with Super Fast Wireless Charging
Get the charge you need quickly, thanks to up to 15W of Fast Wireless Charging support. This charger boost is compatible with USB PD and Super Fast Charging travel adapters for an easy pick-me-up.
Super Fast Wireless Charging speed requires included 25W power adapter and only available with Galaxy Note10, Note10+, S20, S20+, S20 Ultra, Note20, Note20 Ultra, S21, S21+, S21 Ultra, Z Fold, Z Fold2, Z Fold3, Z-Flip, Z-Flip3, Rainbows.
Compatible with all Galaxy devices that support wireless charging. Charging speeds may vary by device. Actual charging speed may vary depending on usage, charging conditions and other factors. 25W power adapter and above required for Super Fast Wireless Charging. 15W power adapter and above required for normal charging.
Compatible with Apple smartphone models iPhone X and later, that support up to 7.5W fast charging.
Galaxy Watch charging feature supports up to 4.5W.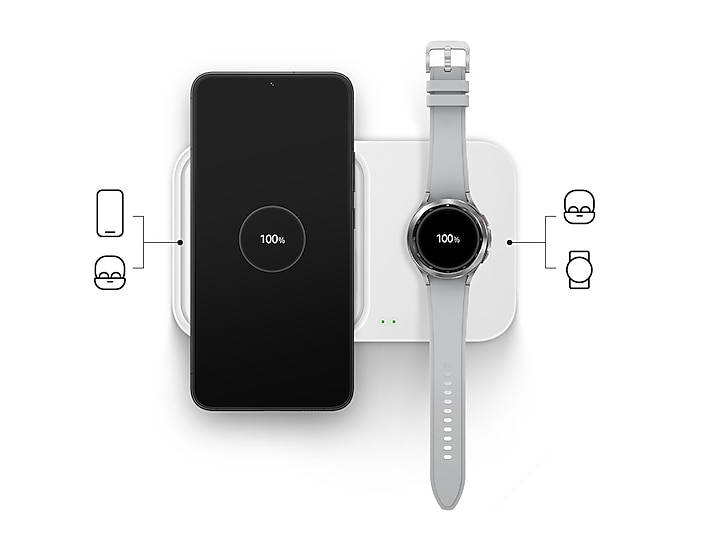 One charger, two devices
Simultaneously power up your favorite pair of devices to enjoy together — whether that's your phone and Galaxy Watch or your Galaxy Watch and earbuds.
The secondary part of this charger cannot charge a mobile phone and is only compatible with all Galaxy Buds and Galaxy Watch Active 1 and later watch models.

Power your device quickly
The Super Fast Wireless Charger Pad has a built-in cooling system with a fan and charges your phone fast.
The cooling fan exists on the primary side. Cooling fan can be used to cool down both primary & secondary side.
User can turn off cooling fan by turning off "fast wireless charging" option on Galaxy mobile when charging Galaxy mobile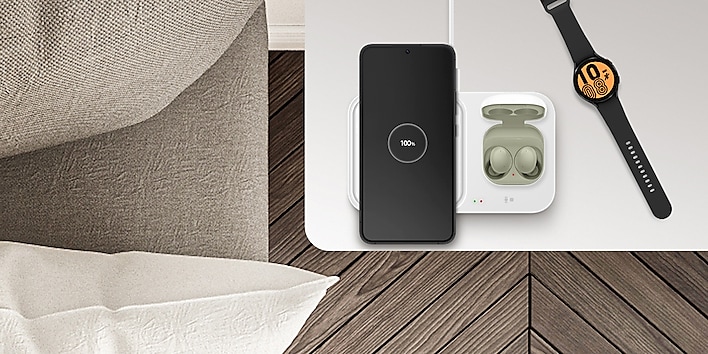 Designed to fit your space
Simply place the Wireless Charger where you want it. With a slim, smooth and compact design, it fits even in your smaller spaces, so it's easy to access when your phone or earbuds need a little extra juice.
Wireless charger requires power connection.
Recommend using in-box charging cable and/or travel adapter for use. Third party items may cause damage to the charger or a decrease in charging speed.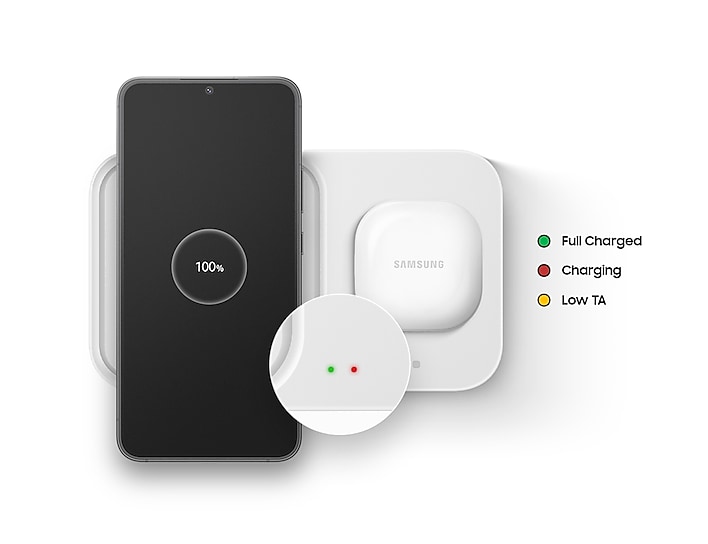 Colors inform charging status
The LED light intuitively tells you the charging status of your device with different colors: red for charging, flashing red for charging error, and green for fully charged. When it's time for lights out, you can dim it to not disturb your beauty sleep.
LED light dimming can only be controlled on models from Galaxy S10 series onwards.
A schedule can be set in the Settings menu to turn off Fast Wireless Charging at a specific time and dim the LED light.
Specifications:
Cable Length: 3 ft
Product Dimensions (LxWxD):
3.58 in X 0.72 in X 6.14 in
Input Voltage: 100~240 V AC
Output Voltage: 9V
Amperage: 2.77A
Package Contents:
Wireless charger, 1M DLC, 25W travel adapter, Manual
Compatibility: Galaxy S6 & Later // Galaxy Note 5 & Later // All Galaxy Z Series// Galaxy Buds+ & Later // Galaxy Watch Active & Later // Galaxy Watch 3 & Later