Hear what you want, not what you don't.
Our proprietary active noise cancelling technology uses microphones both inside and outside the earcups to monitor the sounds around you and instantly produce an opposite signal to cancel them out. With adjustable noise cancelling, you can control how much — or how little — of the outside world you hear. Plus, Conversation Mode lets you simultaneously adjust noise cancelling and pause your music for a quick chat.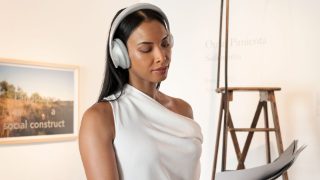 HIGH-FIDELITY AUDIO
The experience you deserve
Whether it's music, videos, or your favorite podcast, get closer to whatever you love with Bose Headphones 700. A combination of exclusive Bose technologies works together to deliver big audio from a small package, sound that stays consistent at any volume, and acoustic noise reduction, which gives you a blank canvas for your music or tuning out the world.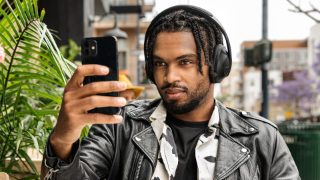 UNRIVALED VOICE PICKUP
Crystal clear calls. For you and them.
Let's face it, your calls are important. Our revolutionary mic system is engineered for making and taking calls — even in less-than-ideal conditions. Six mics work together to cancel the noise around you so you can hear the caller better, while four mics combine to suppress the most disruptive remaining sound around you so the caller can hear you better. No other headphones today can deliver a performance like this.
SIMPLE TOUCH CONTROLS
Speak, swipe, or tap.
Capacitive touch controls make Headphones 700 easy to use. The right earcup features capacitive touch sensors, so you can manage volume, calls, and music without looking at your phone. Low-profile buttons control the power, noise cancelling presets, and your phone's default voice assistant, like Siri, or Google Assistant and Alexa — to allow fast and effortless access to music, messages, and information.*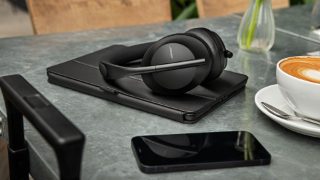 RELIABLE BLUETOOTH CONNECTIVITY
Wireless freedom for multiple devices
Connecting wirelessly to your devices is simple and reliable. Bose Headphones 700 have a Bluetooth range of up to 30 feet and can pair with two devices at once — meaning you can quickly go from listening to a playlist on your phone to taking a conference call on your laptop.
UP TO 20 HOURS BATTERY LIFE
Keep your music playing
Bose Headphones 700 deliver up to 20 hours of wireless play time on a single charge. And if you're running low, a quick 15-minute charge will provide up to 2 hours so you can keep your favorites playing all day long.