5060mAh Large Battery
Experience Nonstop Fun
With the DOOGEE U10 tablet, you can enjoy endless hours of entertainment without worrying about a drained battery.

5060mAh Battery
255 Hours

Standby

18 Hours

Music Playback

4 Hours

Movie Watching

3.8 Hours

Web
Built-in PC-level WPS Office
The DOOGEE U10 table comes with WPS Office, providing an exceptional operating experience similar to using WPS Office on a PC. Users can effortlessly edit documents and efficiently check files. One of the remarkable benefits is the availability of a vast collection of templates within the app, eliminating copyright and compatibility worries for users.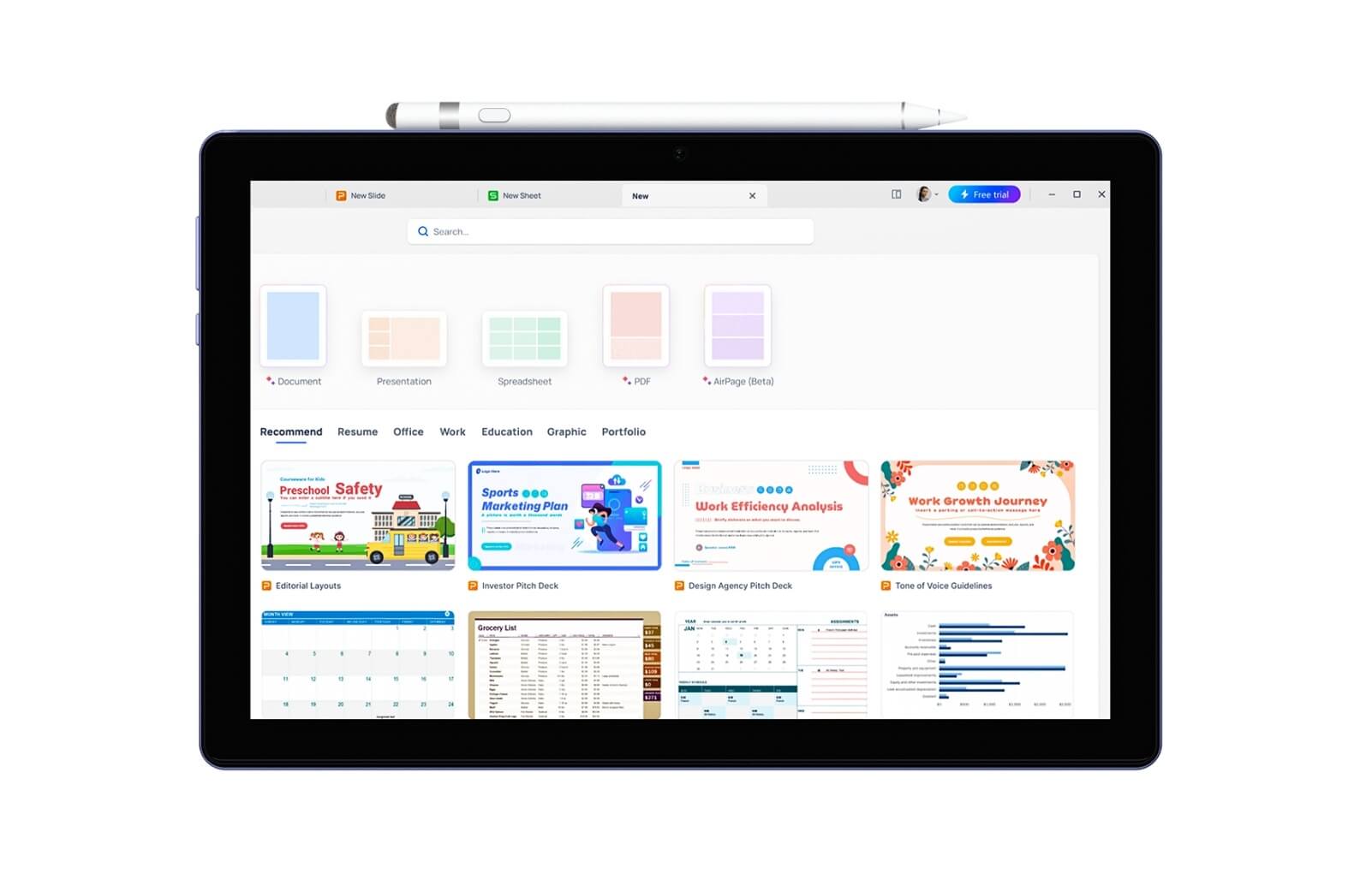 Multi-device Interconnection
Enhance the Space
Project the tablet content onto a TV or computer for easier information sharing with others or bigger visual experience.

4GB RAM + 5GB Expansion Capability
Enhanced Memory Performance
Unlock a seamless multitasking experience with the DOOGEE U10 tablet. With up to 9GB of RAM, you have the absolute power to handle multitasking and demanding apps seamlessly, guaranteeing uninterrupted smoothness every step of the way.
4GB Base RAM
5GB Extended RAM
9GB Max RAM
Faster Wi-Fi 6
Ignite the connectivity with the blazing speeds of Wi-Fi 6. Embrace the future as this next-generation technology, surpassing Wi-Fi 5 to elevate your browsing experience with up to 3x faster speeds, broader signal coverage, enhanced signal penetration, and improved battery life. Upgrade to Wi-Fi 6 and embrace a whole new level of wireless performance.
The Latest Android 13 OS
The new Android 13 offers a safer and smarter way to interact with devices, featuring a plethora of exciting improvements across various key areas. Its design interface has been significantly refined and polished to offer users a more visually appealing and intuitive experience. It also brings forth a range of updates that cater to the evolving needs of modern users. Moreover, it places a significant emphasis on privacy and security, recognizing the growing importance of protecting user privacy.
Trendy & Vibrant Look
Experience the epitome of style with the DOOGEE U10 tablet, designed to set you apart during your vibrant teenage years.
Enhancing Comfort and Visibility with 3 Modes
Carefully crafted with three distinct modes in the DOOGEE U10 tablet, rest assured knowing that your little one's precious vision is safeguarded while using our tablet.
Power Saving Mode
When you turn on the Power Saving mode, the tablet becomes extra smart at saving energy. It reduces the power used by different activities, like apps running in the background or screen brightness. It makes sure the tablet stays charged up and ready for all your adventures!
Eye Protection Mode
When you turn on the Eye Protection Mode, the U10 tablet takes extra care of your precious eyes. It reduces the blue light emitted from the screen. It makes sure that you can use the tablet for longer without feeling any eye strain.
Dark Mode
When you turn on the Dark Mode, everything on the screen becomes darker, which makes it easier on your eyes when you use the tablet in the dark or at night. It will make sure your eyes feel comfortable and relaxed!