LIVE LIFE LOUD
Life should be lived at full volume. That means getting your friends together, turning up the music to full volume and dancing all night to clear, rich sound.
With our new X-series range of speakers, you can make the most of every single moment, power parties you'll remember forever, and always live your life out loud.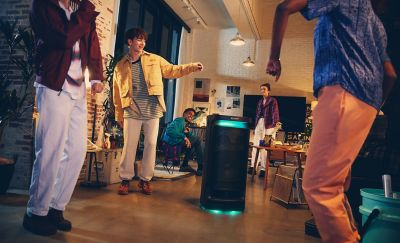 Sound and lights combine for better parties
Turn on instant atmosphere with Omnidirectional Party Sound and mood-adding ambient light.
Enhance all your TV viewing in the comfort of your home
Take your TV watching experience to the next level with deep bass and room-filling sound provided by the TV Sound Booster.
Sing and play the night away with the included Karaoke and DJ function
The XV900 comes with multiple input sockets, allowing you to hook up microphones or even plug in a guitar.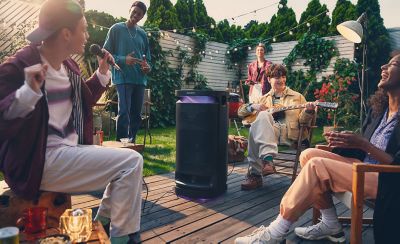 The party is at your fingertips
With the top touch panel that lets you change modes, settings and lighting, you're in complete control of your party.
FEATURES
Omnidirectional Party Sound:
With Omnidirectional Party Sound, feel the groove in every corner with six tweeters around the front, sides and rear for clarity.
Mid-range and vocals cut through, thanks to dedicated stereo drivers, and it's all backed up with punchy bass you can feel, thanks to an X-Balanced Speaker Unit woofer and Jet Bass Booster port.
X-Balanced Speaker Unit: The newly developed X-Balanced Speaker Unit features an almost rectangular diaphragm for an increased surface area. The 320mm*320mm large woofer unit gives clear & deep bass sound
25h Battery life: With the XV900's quick charging, you can get 3 hours of playing time with just 10 minutes of charging. With the Battery Care function, you never have to worry about overcharging your speaker, making it more dependable for longer.
Handle and Wheel: Whenever you want to move the XV900, take hold the of the convenient carry handle and tilt it back. Sturdy castors let you roll all the way to the party.
Omnidirectional Party Light: Indirect illumination produces ambient light in all directions, so you can light up your room in a way that matches your unique style.
TV Sound Booster: Sony's unique function, TV Sound Booster, lets you enjoy the enhanced sound of audio visual contents, such as live performance videos and movies. Owing to the deep bass and realistic high-frequency sound spread, you can get get a true audio-visual experience which draws you right into everything you're watching.
The XV900 ramps up your TV sound with its 32cm (12.6 inch) X-Balanced woofer, while tweeters on the side and rear fill the room.
Karaoke and Guitar: Love karaoke? Then you and the XV900 will make the perfect double act. Plug in your microphone, pick a song and give it everything you've got. And don't stop at singing. With two inputs, you can even plug in a guitar and use the speaker as an amp.
Control and Connectivity: Complete control with just a touch. With the top touch panel, you're in complete control. Change function, settings and lighting with just a touch.
Mobile Apps: Sony | Music Center. Optimise audio settings, select playlists, cue the next song, and control Party Connect. Manage your devices right from your phone with the Sony | Music Center app.
Sustainability: Aiming to achieve a zero environmental footprint . Inspired by the beauty of the world, Sony is doing its part to help preserve the Earth, while still allowing creators to produce even more beautiful and creative imagery. With a goal of achieving a zero environmental footprint across the entire Sony Group by the year 2050, we are accelerating numerous initiatives for the environment.